Misc. Props
Once more.Exactly what the title says...

Darwin:This foam dolphin was made for Toronto Trek. Its body is made oflatex covered foam and then airbrushed. The teeth are made of Fimoand were individually done. The eyes from back painted clear acrylicdomes. He was quite the hit.The only guest that was charity auctionedoff at Toronto Trek.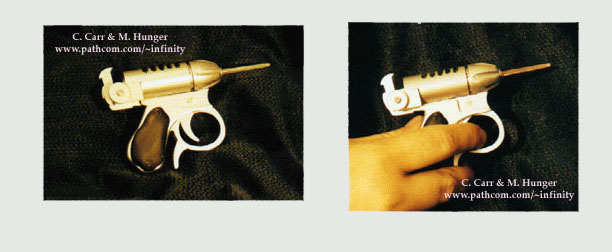 Thelittle tiny weapon comes in handy if you need to hide your defenses.This one was made for a fan of the movie. It brags a superbright LEDat the end of its tiny needle tip, a high pitched laser sound, andlittle watch batteries hidden in the handle. The needle had to becarefully custom lathed as one wrong move and it would snap.
---
A friend ofours was doing a Space 1999 parody play so he asked us to whip upsome plain casted (he wanted to paint them) props. We never paintedour two masters, completely but here they are. We do still have themolds if anyone is interested in a casting. Email us for info.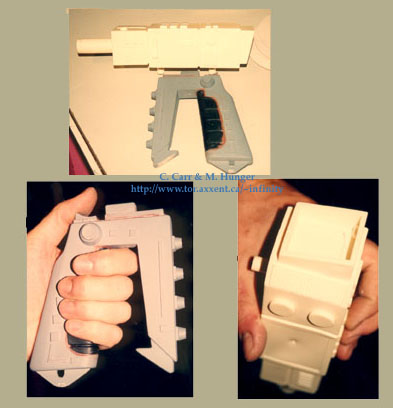 ---

EmailMartin
EmailChristina