Misc. Characters
Exactlywhat the title says...
When wewere asked to face paint for the Bat exhibit at the Science Centre onHallowe'en we felt appropriate characters were needed. Morticia andGomez were just the thing. We used the movie as a basis.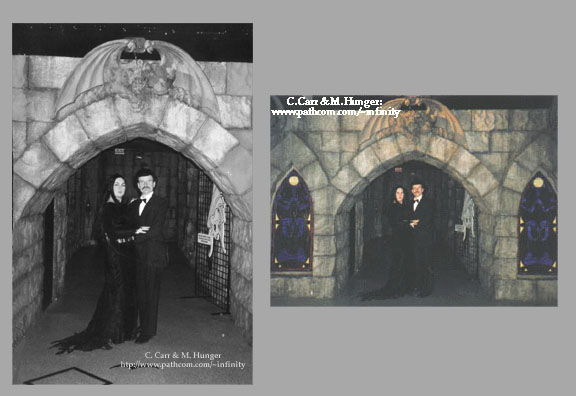 My dresswas velour and the 'tentacles' were lace and light fabrics.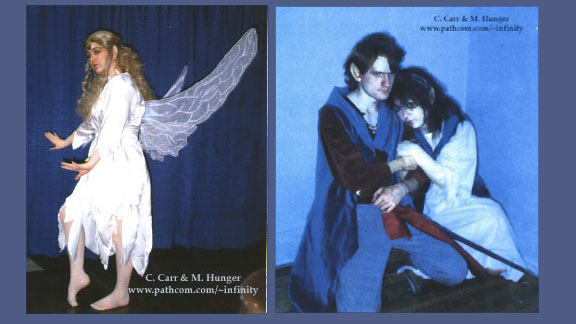 Elves: Simply made out of dyed cottons andtheatre velour, these proved to be eye catching. We completed oureffect by carrying only coinage.
Fairy: Custom done character for the Promotionof a children's book. The wings were made of iridescent fabric withthe veins hand painted on. A 'glass beaded' fabric paint was runalong the 'veins' to create that dewdrop look on close inspection. Itmade the veins appear more three dimensional.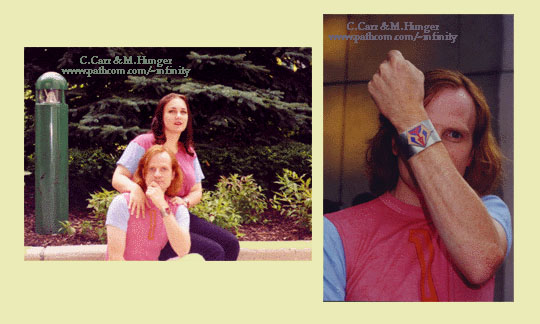 Talkabout a three hour costume. Being guests at Anime North and onlyhaving a little spare cash and even less time we decided on thecasual look from Battle Of The Planets. Simply put: We took 2 shirts,stitch ripped the sleeves, dyed the sleeves and bodice separate andstitched them back together. Iron down transfers made on our computerand quick 'transmute' watches completed the look.
---

EmailMartin
EmailChristina