Padme/Amidala & Qui Gon
Leia & Boba FettStar Wars.The beginning of a saga. If you've never seen one of the movies youat least are familiar with the key characters. That's half the reasonwhy it is so much fun to do them.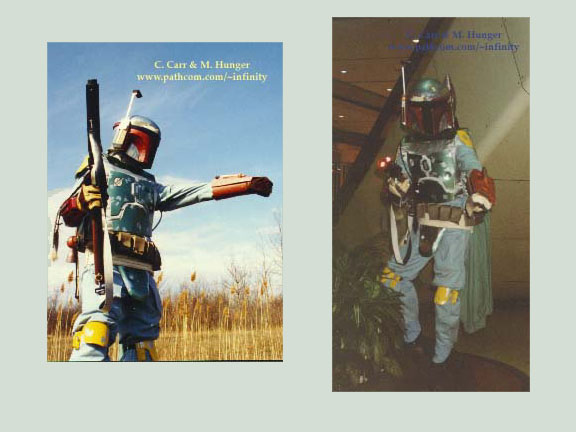 Boba Fett:Was passed down to Martin by Yvonne Penney. The only original piecesof the costume that are left are the jumpsuit and the helmet (made byJohn D'Eall). Martin replaced the scope on the helmet with anoperational one, the vambraces, the backpack, the chest armour andother armour pieces, as well as making a rifle. The rifle has lightsand sound along with a light up targeting scope.

Leia: Donequickly for the reopening of the movies Christina airbrushed thecamouflage pattern onto white cotton. She was not satisfied withcamouflage materials on the market.
LeiaCornered: Never corner a lady who's holding a weapon. Just a photo toprove that the replica luger Martin made for her works.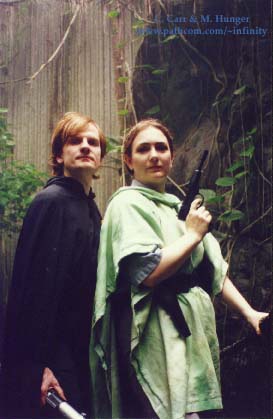 Jediand Leia: Doing children's make-up Martin trades his Boba for ageneric Jedi outfit. Try doing kids make-up in a bounty hunter'soutfit. Not an easy thing.
Photo:Ontario Science Centre's Rain Forest.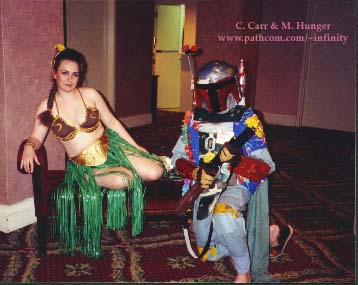 Lei-aand Boba Fete: Costumes done for a Pun Contest. Leia to Lei-a theHawaiian Princess who handed out Leis all evening to unsuspectingmales and Boba Fett to Boba Fete the Party Hunter. A simple tackyHawaiian shirt, leis, and flowers turned this Bounty Hunter into aparty animal.
Photo:Costume Con 15 pun contest. (AFTER Lei-a handed out her gifts)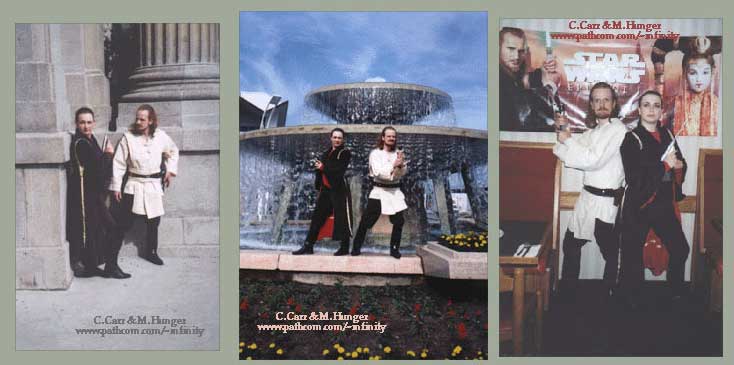 Martinand I take a stab at Qui Gon and Padme/Amidala. I do confess:Mimicking her voice was fun and Martin's just soooo centered asQui-Gon. It was wonderful and we hope to get the most out of thispair.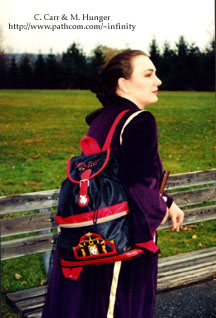 I justhad to. I had my backpack with me when I was dressed up one day so wecouldn't resist taking a catalog type photo of it. I use this poorthing a lot and I am not sure how long it will last.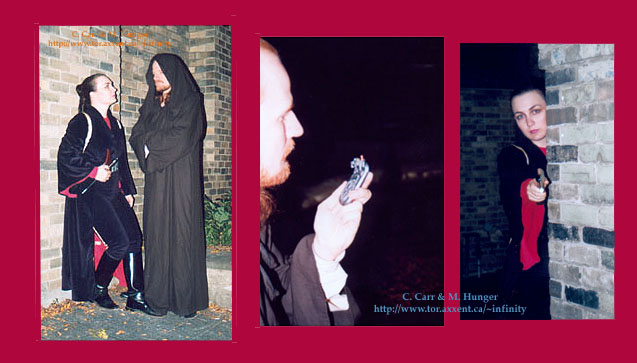 Just totop it off we finally added the robe to Martin's costume. As you cansee, on Hallowe'en night, we brought all of the toys out withus.
---
Photo Credit: PeterSprokkelenburg
---
Ifyou'd like to see something a little different clickhere.
Our friend Vivian did some great Black and Whitephotos of our Padme and Qui-Gon outfits.
---

EmailMartin
EmailChristina