Beetlejuice And Lydia
The movieversions were quickly thrown together with the help of ColleenHillerup. She had wanted to see Martin as BJ. What reason? Still nottoo sure. We all were into the movie and loved watching the cartoon(Done in Canada... Yay!) so I guess that was reason enough. Our liveswere filled with chaos at the time (volunteered for a lot then) soshe did the BJ jacket and we did the rest.
As you cansee we evolved. We wound up doing three different versions. Theanimated versions and the wedding version did compete in a number ofmasquerades and once more, came out for Hallowe'en. That darn hoopskirt. Going through doors and trying to go to the washroom while ata pub.... Not an easy task.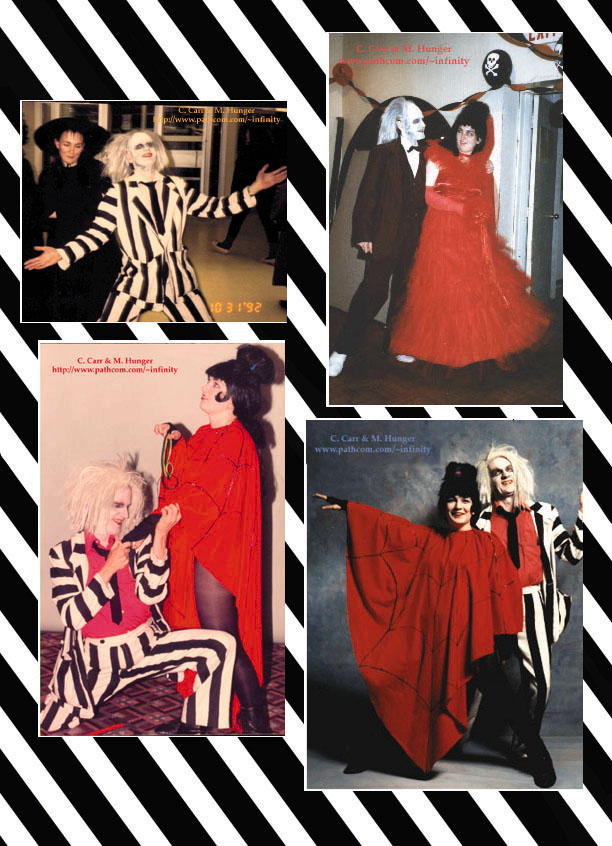 ---
B.J. and Lydiaanimated: The animated B.J. gave us one of our first opportunities toexperiment with make-up. Lydia's outfit is simply fabric paintedcotton and two wigs combined.
B.J. andLyd's wedding: Replicated from the Beetlejuice movie. This is a morerecent example of make-up work and patience. Lydia's dress has MANYgathered layers of netting and lace as well as a hoop skirt.
---
Animated Photo Credit:KevinBrew
WeddingPhoto Credit: Amanda Bloss
---

EmailMartin
EmailChristina